Wooden Beams That Dress Up Ceilings: A DIY Project?
April 13, 2020 Remodeling, Design & Architecture
Transform a dull room by putting exposed wooden beams onto ceilings. More companies are touting it as a more affordable and less cumbersome project that even do-it-your-selfers can perform.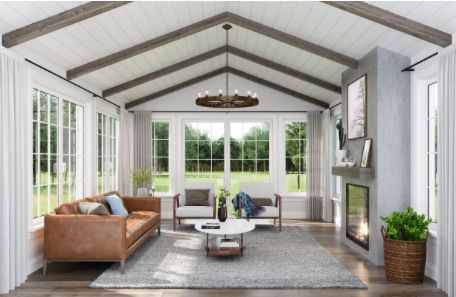 Wooden beams can enhance high ceilings and add a decorative element to a space. Companies are offering faux beams made to resemble the real look of wood to cut the costs. These faux wooden beams are available in a variety of styles and textures. Plus, they're lightweight, which lends itself to a DIY job. Prices vary, but a 13-foot faux wood beam, for example, can cost between $130 to $185. (Google "faux wood beams and mouldings" for options.)
Add them to dress up a family room, master bedroom, or bathroom—or even to add a rustic look to a kitchen.
One company, Ornamental Moulding & Millwork, touts DIY options such as its ambrosia maple and prefinished gray, which are lightweight, eight-foot-long hollow, U-shaped beams. They come with mounting plates and hardware for installation.
"We're seeing people attach our beams to ceilings in family rooms, kitchens, dining rooms, and bedrooms," says Keith Early, vice president of marketing and new product development at Ornamental Mouldings & Millwork. "This definitely is a project a DIYer can tackle. Whether it's adding straight beams to a ceiling, creating a center beam with cross beams, or crafting a coffered ceiling, these beams provide the ideal way to enhance a family's living space."
Early says that short beams and brackets can be intersected with taller beams to construct "a stunning multi-height ceiling profile." Straight beams can be installed to complement rustic wood mantels, floating shelves, and mouldings in a room, he adds.
Melissa Dittmann Tracey is a contributing editor for REALTOR® Magazine, editor of the Styled, Staged & Sold blog, and produces a segment called "Hot or Not?" in home design that airs on NAR's Real Estate Today radio show. Follow Melissa on Instagram and Twitter at @housingmuse.
This blog post is courtesy of the the National Association of Realtors.