Gallery Walls 101: How To and What To Hang
"AAUUUGGHHHHHHHH". Do you hear that? That's that blank wall in that one room in your home that's been screaming at you for the last couple of weeks. You're not sure what it needs but it needs something to shut up that incessant and irritating nagging that you hear any time you look at it. White walls are fine and especially nice to have around for the occasional and artsy selfie backdrop but what about the rest of the time you spend in that room without your camera out?
We've got your answer: a gallery wall! In case you haven't seen this trend yet, it's amazing and the name pretty much speaks for itself! It's a great way to display your favorite decor and it breathes so much life into a room! Although it is a simple fix to a bland wall, it does take a bit of preparation. We want to break down tips to hang your gallery wall and some unique ways to style them!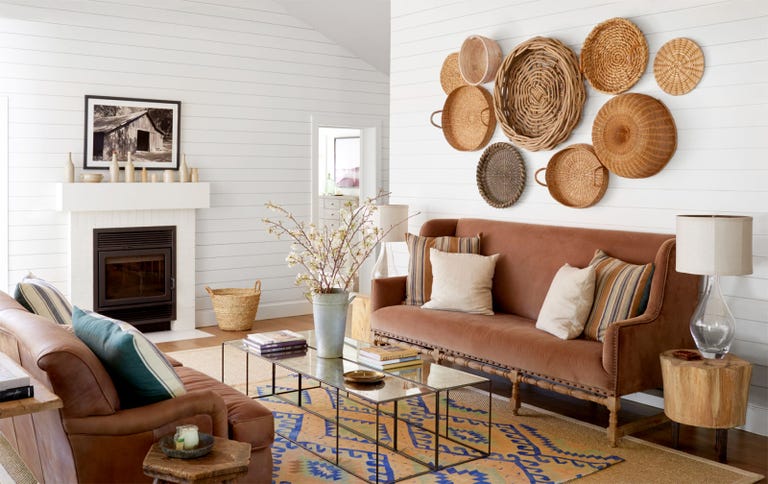 Skip the frames and try adding a unique feature with a lot of texture! A basket gallery wall is such a fun and quirky way to decorate and you can find some beautiful baskets at second hand stores!
Have a focal point
To make your wall sing just the right note, a good rule of thumb is to create a focal point. You don't want your viewers eyes bouncing around too much but to have a proper flow path to follow. You can induce this sense of pattern and flow by having the central piece around 66″ off the ground.

Another seemingly effortless and unique gallery wall we love! Scour old books and maps for this idea! This can be such a sentimental and important wall too where you can share where you've been, where you're going, and where you're from! Not to mention this could be a great idea if you're on a budget!

Wall color
You've worked so hard picking out your favorite pieces and figuring out how to put them together just so. Don't let the color of your wall steal the show from the stunning and unique decor you've chosen to display. There's a reason why art museums don't have purple walls backing their Picasso prints. If you must have the purple walls, keep your accent wall white and put your gallery there! Take a lesson from the Louvre.

Another non traditional gallery wall! We love it nonetheless! Sometimes I see the most gorgeous set of China at a second hand store or at a garage sale and it is DIRT CHEAP. Give it a proper home on your wall and hey maybe you can use it if you ever need to feed an army of relatives!

Frame and wall care
Vice versa, don't let your decor be the downfall of your poor walls! Protect from scratches and marks by using frame hangers instead of the more typically used wall hanger. Pair that some felt discs on the back of the frame and your wall will thank you!